It's been a busy week in the Atlantic League and at ALPB Roundup so, for the sake of the content currently being worked on, this weeks ALPB Roundup is essentially a collection of all of our news/transaction briefings from the past week. For up-to-date information between Weekly Roundups during the offseason, follow us on Instagram (@alpb_roundup) and (@ALPBroundup) Twitter!
Atlantic League Expansion and Schedule
With the West Virginia Power joining the Atlantic League and filling out the league's 2021 membership at 8 teams, we also received schedules for the league this week. Here's some key things to know about the 120-game schedule:
May 27th, 6:50 PM: Season Opener, Barnstormers @ Gastonia
May 28th: Atlantic League Opening Day
October 10th: Final Day of Regular Season
Below is a block chart of the number of home and away games each team is scheduled to play against the rest of the league. The 2nd chart shows the estimated mileage that teams are expected to travel during the 2021 regular season.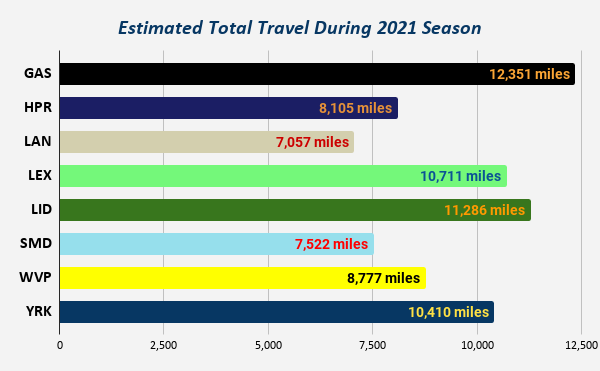 As we did before the 2020 season was cancelled, we'll release a full preview of the 2021 schedule including team projections as the season approaches.
Transaction News and Analysis
Johnny Hellweg
Josh Judy
Duke von Schamann
Jared Lakind
Scott Shuman
Garrett Granitz
Henry Owens
Robert Carson
Liam O'Sullivan
Derek Self
Jake Romanski
Daniel Gibson
Ben Aklinski
Kevin McGowan
All-Time Top 100 Atlantic League Players Update
Members of our All-Time Top 100 Atlantic League Players that we revealed this as we countdown to Opening Day:
94. Emison Soto
93. Scott Grimes
92. Jose Velazquez
91. Andy Marte
90. Sharnol Adriana
89. Caleb Gindl
88. Daryl Thompson